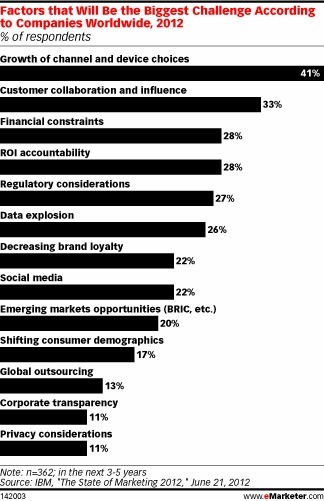 Top 3 factors that are the biggest challenge to marketers :
1) Growth of channel and device choices
2) Customer collaberation and influence
3) Financial constraints /ROI accountability
eMarketer's core take away from this data is that marketers are challenged to keep pace with proliferation of mobile & social tech, and therefore need to work more closely with tech groups.
As a counterpoint I add the following thought:  the proliferation of channels, media, tech, etc… requires the development of transmedia marketers: storytellers, technical generalists (and sometimes specialists!) and community enablers.
Full article from eMarketer here:  http://www.emarketer.com/Article.aspx?R=1009167&ecid=a6506033675d47f881651943c21c5ed4
See on www.emarketer.com